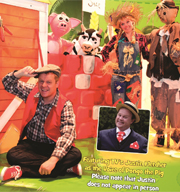 MARTY MACDONALD'S FARM
Monday 4 August 2pm
"Marty MacDonald needs your help! He's looking after his uncle's farm but Old Macdonald has left things in a mess - the animals have gone on holiday, the farmyard is topsy-turvy and the crafty cows are eating the crops in front of his eyes! Help Marty, Pongo the Pig, Molly-Moo the Cow and Sheena the Sheep as they work together to find a way to rescue the corn and save their farm…"
Come and join in the adventure, make new friends and sing along to your favourite songs & nursery rhymes, in a live and interactive theatre show with bags of fun and laughter, down on Marty MacDonald's Farm! With a colourful farmyard and host of loveable puppet characters, Marty MacDonald's Farm is a family show particularly suitable for 3 – 7 year olds.
Songs include: Old MacDonald Had A Farm, The Wheels On The Bus, If You're Happy And You Know It, The Grand Old Duke Of York, Twinkle, Twinkle Little Star…and more! Running time: 90 minutes, including interval.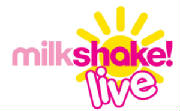 MILKSHAKE LIVE!
Saturday 16 August 1pm & 3.30pm
Starring some of your Milkshake favourites, this brand new musical spectacular is sure to have children up on their feet and singing at the top of their voices!
Joining this fantastic show will be two Milkshake presenters, who will take us on a fun Milkshake adventure; bound to dazzle and delight!
The show features brand new songs, classic favourites and funky dance routines, plus plenty of laughter, bags of audience interaction and bucket loads of fun for all the family too!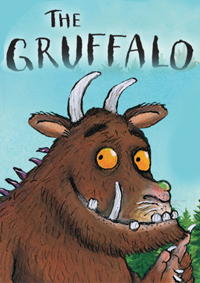 THE GRUFFALO
Friday Tuesday 7 October 1.30pm & 4.30pm, Wednesday 8 October 10.30am & 1.30pm
When Don't miss Tall Stories' hit musical stage adaption of the award winning picture book, The Gruffalo by Julia Donaldson and Axel Scheffler.
Meet a wheeler-dealer Fox, an eccentric old Owl and a maraca-shaking, party mad Snake! Mouse can scare these hungry animals away with tall stories of the terrifying Gruffalo, but what happens when he comes face to face with the very creature he imagined? Voted the nation's number one bedtime story by BBC Radio 2 listeners, The Gruffalo has been performed to well over a million people worldwide and has even hit the small screens in a star-studded TV animation. The Gruffalo is the perfect family treat with plenty of songs, laughs and scary fun for children aged 3+ and their grown-ups.
'Monstrous fun!' ★★★★ Daily Mail
Watch a sneak preview online at www.gruffalolive.com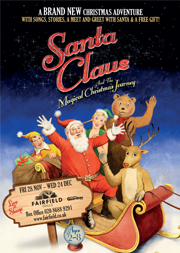 SANTA CLAUS AND THE MAGICAL CHRISTMAS JOURNEY
Friday 28 November - Wednesday 24 December
A BRAND NEW CHRISTMAS ADVENTURE WITH SONGS, STORIES, A MEET AND GREET WITH SANTA & A FREE GIFT!
It's Christmas Eve, and Santa Claus is flying high above the clouds delivering presents to all the good boys and girls around the world. Hiding in the back are two naughty elves Charlie and Kara who have snuck on board for the ride…!
All is well until suddenly, just as Santa Claus flies high above Croydon, the Sat Nav goes haywire and breaks leaving him stranded without his list of postcodes to deliver presents to! With the clock ticking and morning fast approaching it's down to Charlie, Kara and Muffin the bear to come up with a clever plan to save Christmas.
From the producers of last year's record breaking production, this brand new adventure filled with songs, nursery rhymes and magic promises to be the Christmas treat you won't want to miss. A truly unforgettable experience which includes the magical moment when snowflakes fall over the audience – a guaranteed white Christmas at every show!
As an added Christmas treat, all of the good boys and girls in the audience will meet Santa after the show and receive a special present of their own.
For all children ages 2+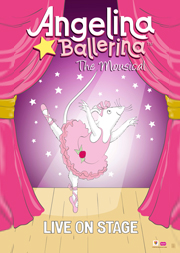 ANGELINA BALLERINA The Mousical
Tuesday 5 August 4pm, Wednesday 6 & Thursday 7 August 11am, 2pm & 4pm
Everyone's favourite little star, Angelina Ballerina, pirouettes onto the stage in this sparkling musical packed full of singing and dancing.
Angelina and her friends think their dreams have come true when Camembert Academy wins the opportunity to appear in their favourite television programme "Dancing With Mice!". But when the girls and boys have very different ideas for the show and just can't seem to agree on anything, it's up to Angelina as Dance Captain to ensure that the show goes ahead.
So put on your ballet shoes and join Angelina, Alice, Gracie, Viki, AJ and Marco for the most stupendous Mousical of the year!
'Terrific! Energetic performances, a great set design, lovely songs. Top class family entertainment.' Nottingham Evening Post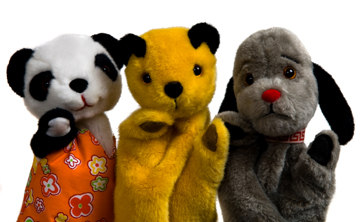 THE SOOTY SHOW
Tuesday 19 August 11am & 2.30pm

Izzy Wizzy lets get busy - It's The Sooty Show! Direct from Citv, Sooty heads into town in a fabulous new show to delight the whole family. Joining the nations favourite bear will be sweep, Soo and Sooty's TV Partner Richard Cadell - who will be attempting to keep Sooty from getting up to mischief! Boy will he have his hands full! It's Sooty's Birthday party and things aren't going to plan. Sooty and Sweep get messy baking the Birthday cake and will Soo ever decide which dress to wear? Special party guests include legendary Sooty favourites Butch the Bulldog and Ramsbottom the Snake. So join in with all the fun and games at Sooty's Birthday Party!
There's also a chance to meet Richard and Sooty after the show. A spectacular mix of magic, music and mess-guaranteed giggles for Sooty Fans old and new!
'A real treat for the children and a dose of nostalgia for the parents' - The Stage.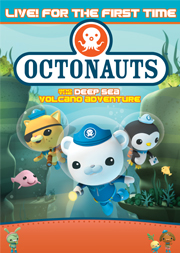 OCTONAUTS AND THE DEEP SEA VOLCANO ADVENTURE
Wednesday 29 & Thursday 30 October 10am, 1pm & 4pm
When there's trouble under the sea, the Octonauts dive into action! Get ready to embark on an exciting new mission with our underwater adventure super heroes, Captain Barnacles, Kwazii and Peso, in the brand new live stage show, Octnauts and the Deep Sea Volcano Adventure.
Visit strange new worlds full of mysteries to unravel, with surprises around every corner this action packed interactive show features music and all your favourite characters live on stage for the very first time!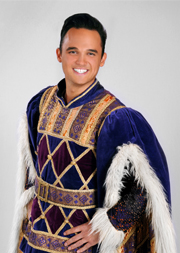 SNOW WHITE AND THE SEVEN DWARFS
Friday 5 December 2014 - Sunday 4 January 2015
This Christmas, don't miss our hilarious, fun-packed, family pantomime, Snow White and the Seven Dwarfs. With comedy, singing, dancing, audience participation and stunning sets and costumes, this year's Ashcroft Theatre pantomime promises to be our most magical pantomime ever!
Our star-studded cast includes pop icon and West End superstar, GARETH GATES and, back by popular demand, everyone's favourite Dam QUINN PATRICK. Once again, the show will be written by PAUL HENDY and produced by the same team that brought you last year's box office smash hit, Peter Pan.
Snow White and the Seven Dwarfs promises to be top quality family entertainment. Tickets are selling fast so book now for the funniest and most spectacualr show of the year!